Spend $100 to Receive FREE Curbside Pickup!
Tate's Bake Shop Chocolate Chip Cookies, 7 Oz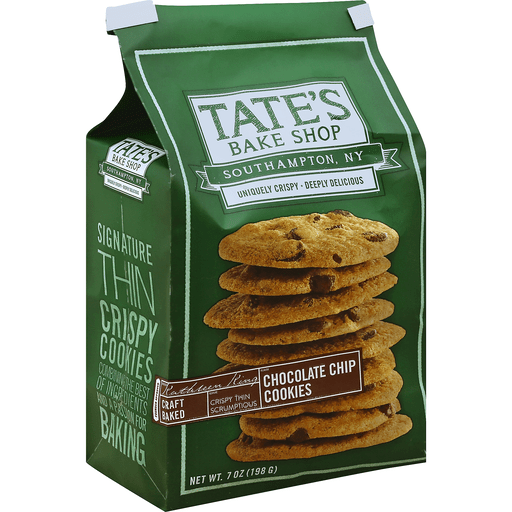 Tate's Bake Shop Chocolate Chip Cookies. Southampton, NY. Uniquely crispy. Deeply delicious. Founder approved. Kathleen King. Craft-baked. Crispy thin scrumptious. Signature thin crispy cookies. Combining the best of ingredients and a passion for baking. A little bake shop in every bite. The bake shop way: What makes Tate's Bake Shop cookies so deeply delicious It's something we call "the bake shop way". It started when 11-year-old Kathleen King began baking cookies to sell at her parent's Farmstand. Her love of baking and dedication to quality made her crisp, buttery cookies legendary in Southampton, and were the inspiration for what eventually became Tate's Bake Shop. While our bake shop is still a local favorite, our cookies have won a loyal following from coast to coast, with Kathleen's intuition, passion and principles guiding everything we do. So enjoy one of our deeply delicious cookies and experience "the bake shop way". 631-780-6511. www.tatesbakeshop.com. Find more craft-baked goodness at tatesbakeshop.com.