FREE Delivery or Curbside Pickup Service on Your First Order!
Chocolove Pretzel in Milk Chocolate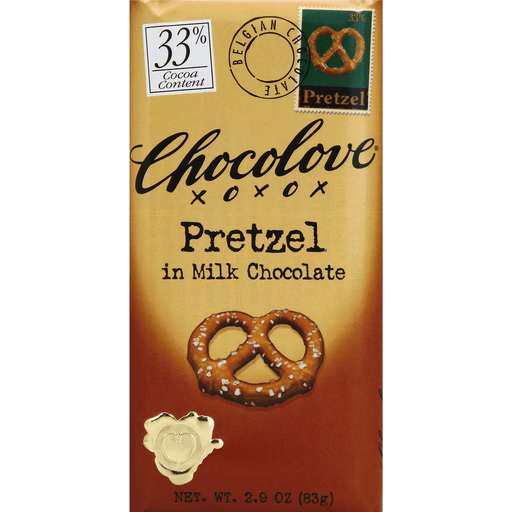 Chocolove® Pretzel in Milk Chocolate. 33% cocoa content. Belgian chocolate. 33% pretzel. Net wt 2.9 oz (83g). Who knew chocolate and pretzels could taste so good Crunchy bits of salty pretzel sticks contract with creamy milk chocolate to make for a yummy taste treat. Spaniards have been eating bread and chocolate for years. Enjoy! This bar is made with cocoa certified by IMO as for life which means it was farmed in a socially responsible and ethical manner. All of the cocoa bean derived ingredients in this chocolate are certified for life. Made in Boulder, Co with Belgian chocolate. For life 29% for life certified content. Call toll-free 1.888.CHOCOLOVE. ww.chocolove.com.