FREE Delivery or Curbside Pickup Service on Your First Order!
Bubba's Bagels, Cinnamon Raisin Sliced, 6 ct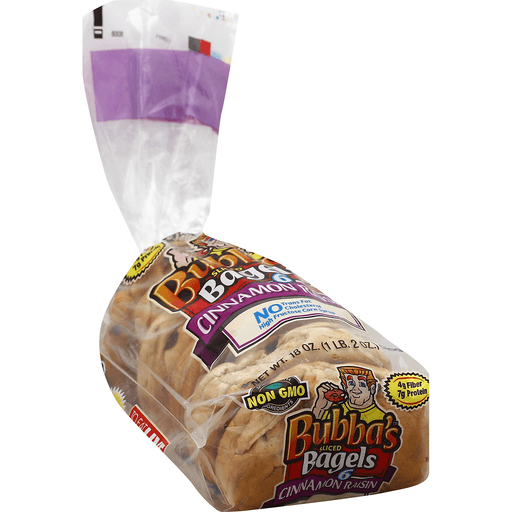 Made with non GMO ingredients. Healthy made delicious. 4 g fiber. 7 g protein. No: trans fat; cholesterol; high fructose corn syrup. Bubba sez - Eat lots of bagels. At Bubba's Bakery our goal is to make healthy delicious bagels for you and your family to enjoy. We start with the finest natural ingredients using a traditional process to make all of our bagels nutritious and full of flavor. We stand uncompromising in our commitment to bake the very best bagels. Healthy made delicious! From our family to yours. Enjoy some today! Fresh & delicious or your money back! This package is environmentally responsible. Thank you for choosing another healthy made delicious product from Papa Pita! www.papapita.com. To eat well is to live well. American Heart Association Certified: Meets criteria for heart-healthy food.