FREE Curbside Pickup Service for Orders Over $100!
Triple Leaf Tea Herbal Tea, Ultra Slim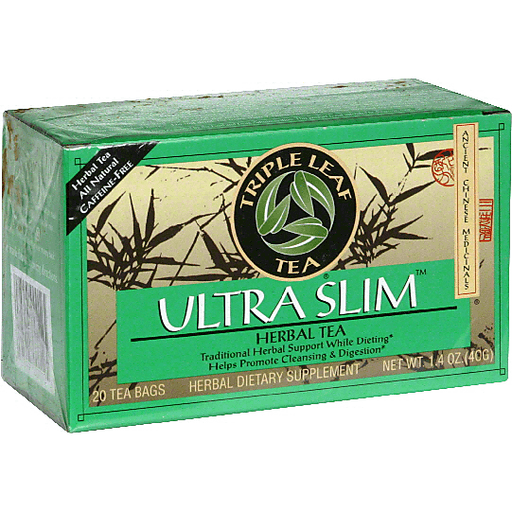 Triple Leaf Tea® Ultra Slim™ Tea. Herbal tea. Naturally. Caffeine-free. Ancient Chinese Herbs & Teas®. Non GMO Project Verified. nongmoproject.org. Traditional Chinese herbs with white mulberry leaf*. Helps support cleansing*. Herbal dietary supplement. 20 tea bags. Net wt 1.16 oz (33g). Triple Leaf Tea's ancient Chinese herbs & teas: Traditional Chinese use of herbs and teas dates back thousands of years. Recently, here in the West, people have discovered the value of this ancient practice. Tea drinkers are able to enjoy a wider variety of Chinese herbs and teas that rarely were used in the West until recent times. Different parts of plants are used, including the leaves, stems, roots, barks, seeds and flowers. Herbs are often blended together, and prepared and consumed as teas. The Chinese tradition of using herbs and teas has been passed on from generation to generation over the centuries. Triple Leaf Tea comes from such a tradition. It is made in the U.S.A. by a Chinese American family-owned business. The company owner can remember stories of his own grandfather selling herbs and teas in his village in China. Today, these traditional Chinese herbs and teas are available to you. We wish you harmony, balance and well-being. Ultra slim herbal tea: The herbs in this popular Chinese tea have been used traditionally to help support cleansing.* Senna is an herbal stimulant laxative that was used to promote bowel movements.* White mulberry leaf was used to help tonify the liver.* Persimmon and papaya leaf were used to help support the stomach.* Loquat leaf was said to soothe and harmonize the stomach chi (energy).* Follow the advice of your doctor, including their recommendations for a balanced healthy diet, fiber and regular exercise.* Be sure to eat plenty of fresh vegetables, fruits, juices and pure water, according to your doctor's advice.* Blended and packed in California, U.S.A. We use oxygen bleached tea bags. Our boxes are made from recycled paperboard and biodegradable inks. Please recycle. Satisfaction guaranteed by refund or exchange. See inside flap for brewing directions. 1-800-552-7448. www.tripleleaf-tea.com.