FREE Curbside Pickup Service for Orders Over $100!
Lion Coffee Vanilla Macadamia Roast, Whole Bean, 10 Oz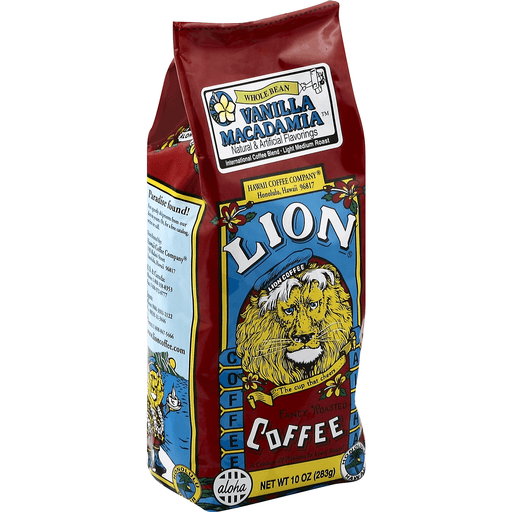 Natural & artificial flavorings. International coffee blend. Aloha. The cup that cheers. Fancy roasted. A century of wisdom in every roast! Honolulu Hawaii. Drink Lion coffee. Hawaiian Islands. Lion's famous Dancing Hula Beans. Paradise found! For speedy shipments from our den to yours. Or, for a free catalog, write or call: Hawaii Coffee Company 1555 Kalani Street Honolulu, Hawaii 96817. US & Canada: Phone: 1-800-338-8353 Fax: 1-800-972-0777. Direct: 1-808-847-5466. www.lioncoffee.com. Since 1864, America's oldest major coffee company, Lion has reigned as the King of Coffees. Regal standards demand the world's finest arabica beans, careful fancy roasting, and an abundance of cheer! Due to the enthusiastic and loyal support of coffee lovers from around the world, Lion's reputation for an incredibly smooth rich taste has spread far and wide. Because of this our cheery red bags are shipped all across the seven seas. Cup o' cheer.